Our medically developed weight loss protocol and smarter lifestyle choices education offers dieters what they really want…a structured program that can put an end to constant dieting.
50 Lbs. Lost Using Ideal Protein!
I have gained lots of weight in the past. I tried cleansing with vegetable juice fasts and weight watchers and neither worked well for me. Other things like exercise did not work for me. I would either diet or exercise, not both. So I got no results. Read more..
Achieve the Weight Loss Results You Want and Deserve
For thousands of North Americans burning extra calories is a struggle. It's why you may begin to consider drastic solutions to get results – fad diets, pills, surgery or those weird fitness gadgets on infomercials that promise rapid results. Many of these solutions sound too good to be true…can you really have rapid weight loss results?
The Good – Stable weight loss results are possible. They can even be sensible given the right program. (click here to discover a weight loss method with over 10 years of success – Ideal Protein)
The Bad – Rapid weight loss will not lead to long term successful weight management without a balanced lifestyle education and your commitment to better well being. (Call now to unlock the secret to Ideal Protein's post diet weight stabilization – 240-595-6504)
The Ugly – You risk regaining your lost weight if you lose muscle while dieting and don't have the knowledge to develop better eating habits and smarter lifestyle choices after dieting (contact a Ideal Nutrition Diet Center representative now and begin your weight management education)
Personalized Weight Loss Coaching is Only a Phone Call Away
Pick up the phone and give us a call 240-595-6504, we'll help you to achieve your weight loss goals and teach you to live at a stable weight!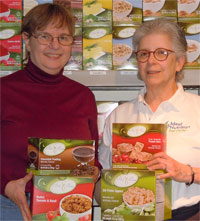 The Ideal Nutrition Diet Center has been serving clients in the Metropolitan Washington DC area since 2007. Ruth and Nina first met the Ideal Protein folks from Canada at the Natural Products Expo in Baltimore that year, and we were one of the first Ideal Protein clinics to open in the US. Immediately drawn to their superior products and weight loss method, we knew from the start that joining their team meant we would have great ongoing support and professionalism from a world-class company.
Our clinic is dedicated to weight loss education and strategies to help dieters be successful in controlling their weight after dieting has ended.
Pictured here are Nina and Ruth keeping the shelves stocked with Ideal Protein products.
Contact us today, we'll help you discover your inner confidence as we teach you to shed your excess pounds and maintain a stable weight!
Ideal Nutrition Diet Center is Authorized to Use the Ideal Protein Weight Loss Protocol and Products. The testimonials on this website are those of the individual that is identified, you should not necessarily expect to receive these results. Typical results vary from person to person and individual to individual when the Ideal Protein Weight Loss Protocol is followed properly. You should consult your physician or other health care professional before starting this or any other diet program to determine if it is right for your needs.
10915 Breewood Court Silver Spring MD 20901 – Phone: 240-595-6504
Copyright © 2018 Ideal Protein All rights reserved.